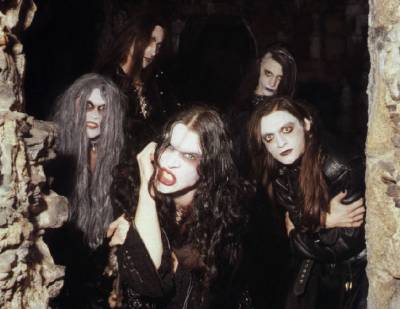 História
A partir da banda Necromancia, uma banda francesa death metal e metal gótico, nasce Anorexia Nervosa. Nesta altura a banda era composta por Stefan Bayle e Marc Zabé na guitarra, Pier Couquet era o baixista, Nilcas Vant ocupava-se da bateria e Stéphane Gerbaud dos vocais. O estilo da banda era influenciado por heavy death metal, metal gótico e Death Wave.
Em 1995, depois de vários concertos com bandas como Sup, Yuggoth, Opera IX, Anorexia Nervosa lança a primeira demo, Nihil Negativum.
Depois de um concerto no sul de França são convidados pela editora Season of Mist a gravar um álbum (Exile), que foi lançado em 1997. O álbum tinha como temas a neurose e a negação da existência.
Alguns membros da banda queriam continuar no mesmo estilo de Exile, mas a maioria discordava. Então Stéphane Gerbaud e Marc Zabé deixaram a banda. Pouco depois a banda apresentou o seu estilo actual, que é caracterizado como o verdadeiro Dark Nihilistic Metal, rápido e poderoso, que representa a maneira niilista forma de viver.
Em 1999 foi lançada a EP Sodomizing the Archedangel, seguindo-se depois uma tournée pela França, já com Hreidmarr nos vocais e Neb Xort no teclado.
Em Março de 2000 a banda lança o álbum Drudenhaus, mais rápido e sinfónico, com influências clássicas. Segue-se, em 2001, o álbum The New Obscurantis Order.
Em 2004 o álbum Redemption Process é considerado um dos melhores álbuns de black metal do ano.
Em 2005 a banda dedica-se aos concertos, participando nos festivais Fury Fest e Summer Breeze. Em Setembro a banda sai em tournée com as bandas Vader, Rotting Christ e Lost Soul. Nesse mesmo mês é lançada a EP The September EP.
Integrantes
Stefan Bayle

- guitarra

Nilcas Vant

- bateria

Pier Couquet

- baixo

Neb Xort

- teclados


Anorexia Nervosa - The September - 2005 (EP)
Tracklist :

1.Sister September (directors's cut mix) 06:36
2.La Chouanne (Forbidden Site Cover) 03:55
3.Quintessence (Darkthrone Cover) 07:09
4.I'll Kill You (X-Japan Cover) 03:16
5.The Shining (live) 05:47
6.Stabat Mater Dolorosa (Live) 07:55
7.Worship Manifesto (live) 05:32
8.Le Portail de la Vierge (live) 06:01



Download
Tracklist:

01. Intro
02. The Drudenhaus Anthem
03. Das Ist Zum Erschiessen Schon
04. God Bless The Hustler
05. Sister September
06. Antiferno
07. Worship Manifesto
08. I'll Kill You (Bonus Track)
09. Quintessence (Bonus Track)







Download
Tracklist :

1.Le Patient est Isolé 02:48
2.In a Brown Gnostic Study 05:48
3.Quelque Chose Comme l�Idée qu�il n�Aurait Mieux pas Fallu Naître 02:33
4.Anamorphic Effect: The Revival 07:12
5.Retrouver Son État Initial, Éavant qu�il ne Soit Trop Tard 02:01
6.In the Mental Confinement (Mosaic of Infinite Visions) 05:28
7.Avec le Triomphe de l�Esprit et la Faillite de la Déité 03:05
8.The Shadows Howling 00:59
9.Garden of Delight 05:48
10.Dismal Paradise 06:15
11.Autoerotic Death 06:48
12.Lepros Darma 06:45


Download
Tracklist :

1.The Shining 05:29
2.Antinferno 06:47
3.Sister September 06:33
4.Worship Manifesto 05:29
5.Codex-Veritas 07:07
6.An Amen 07:28
7.The Sacrament 06:41










Download
Tracklist :

1.A Doleful Night In Thelema 04:57
2.The Drudenhaus Anthem 05:13
3.God Bless The Hustler 04:35
4.Enter The Church Of Fornication 05:33
5.Tragedia Dekadencia 06:30
6.Divine White Light Of A Cumming Decadence 04:32
7.Dirge And Requiem For My Sister Whore 04:17
8.Das Ist Zum Erschiessen Schön 05:00
9.The Red Archromance 05:59







Download
Tracklist :

1.Divine White Light of a Cuming Decadence 05:03
2.Blood and Latex Terrortech War 03:58
3.Excreted Communion Under Khaos Zero 03:54
4.A Caress of Flesh and Vomited Romance 04:16












Download
Tracklist :

1.Prologue - To Exclude From The Cycle Of Generations / Cycle I - Delusive Complexion 05:30
2.Sequence 1 - Spiritu Fornicationis / Action 1 - Distressing Amnios 06:37
3.Sequence 2 - Say The World That Fall In The Sky / Action 2 - Gnostic Wails 03:35
4.Sequence 3 - The Unveiled Mirror / Action 3 - Other Wails 02:50
5.Sequence 4 - Divert The Necessities Of The Body / Cycle II - Burning Tongue 01:11
6.Sequence 1 - Against The Sail / Action 1 - Vertebrae Embryo 01:20
7.Sequence 2 - Faith / Action 2 - Discordant Effects Of Suicides 03:00
8.Sequence 3 - Acclaim New Master / Action 3 - Slave 07:38
9.Sequence 4 - First Tasting Of Faecal Matter / Cycle III - Man-Machine 02:21
10.Sequence 1 - Some Miracles Of Entrails / Action 1 - Not Showed 04:33
11.Sequence 2 - Spirit Of The Valley / Action 2 - Enclose 04:45
12.Sequence 3 - Flesh Goes Out Without Grace 06:40
13.Epilogue - Running Of Mental Fluids 00:51


Download