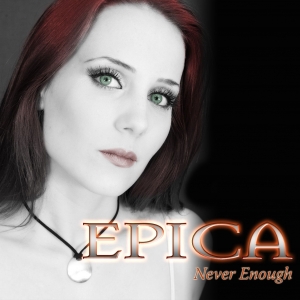 Biografia
No final de 2002, Mark Jansen saiu da banda After Forever, alegando divergências musicais com os demais integrantes, que desejavam um direcionamento mais pesado e menos sinfônico. Começou a procurar músicos para se integrarem ao seu novo projeto, inicialmente nomeado Sahara Dust. No começo, a banda contou com Helena Michaelsen (ex-integrante do Trail of Tears) como vocalista, mas logo depois ela abandonou o grupo e deu lugar a uma, até então, desconhecida mezzo-soprano, Simone Simons, na época namorada de Jansen. A banda estava completa com o guitarrista Ad Sluijter, o baterista Jeroen Simons, o baixista Yves Huts e o tecladista Coen Janssen.
Em 2003, ainda intitulada Sahara Dust, lançou a demo Cry for the Moon. No mesmo ano o nome da banda mudou para Epica, inspirado no álbum homônimo da banda Kamelot. Sobre o novo nome:
| | | |
| --- | --- | --- |
| | Epica é um lugar do universo onde nós podemos encontrar as respostas para as mais importantes perguntas sobre a vida. A maioria de nossas letras é parecida com o significado de Epica. E o Kamelot acabava de gravar seu álbum intitulado Epica. Nós adoramos o título. A maioria dos membros, incluindo eu, adora ouvir Kamelot. Então decidimos mudar o nome para Epica. | — Simone Simons |
Em junho a banda lança seu primeiro álbum, The Phantom Agony, com nove faixas r destaque para "Cry For the Moon", "Feint" e "The Phantom Agony". O álbum conta uma forte influência da música árabe, nítida na faixa "Seif al Din". Os vocais são divididos entre a mezzo-soprano Simone Simons e a voz gutural de Mark Jansen. A participação de oito vozes compondo o coral atribui um aspecto grandioso, especialmente na faixa de abertura "Adyta", cantada em latim. Sétima faixa, "Run for a Fall" foi escrita por Mark Jansen e disserta sobre sua saída do After Forever. "Façade of Reality" aborda os atentados de 11 de Setembro, incluindo um trecho com declarações de Tony Blair.
Em 2004, a banda lançou o DVD We Will Take You With Us, que incluía gravações em estúdio de canções do álbum The Phantom Agony, making of, os vídeos musicais deles até o momento ("Feint" e "The Phantom Agony") e biografia.
Chegado Abril de 2005, o grupo lança Consign to Oblivion, um álbum baseado na cultura e história Maia; Mark Jansen é apaixonado pelo tema - esteve no México pela primeira vez com o After Forever - e diz que acredita em certos princípios que os Maias tinham. O álbum aumentou consideravelmente a base de fãs. Já Consign to Oblivion contém onze faixas, destacando-se "Solitary Ground", "Quietus", "Mother of Light", a faixa título "Consign to Oblivion" (com participação de André Matos no coral) e um dueto com Roy Khan, vocalista do Kamelot - "Trois Vierges". Em Setembro de 2005, foi lançado The Score - An Epic Journey. No entanto, o álbum não é um trabalho regular do sexteto, mas sim a trilha sonora que a banda fez para o filme Joyride. Em dezembro de 2005 o Epica fez sua primeira turnê pela América do Sul, passando por diversas cidades do Brasil.
Na metade de Setembro de 2006 a banda acaba sua primeira turnê nos Estados Unidos e Canadá, com a banda Kamelot; neste mesmo tempo, o baterista Jeroen Simons deixa o grupo. Em Dezembro de 2006, o grupo anunciou em seu sítio oficial que Ariën van Weesenbeek do God Dethroned seria o baterista do próximo álbum da banda. E em meados do ano Simone Simons e Mark Jansen terminam seu namoro.
Após a falência da Trasmission Records a banda ficou quase um ano sem gravadora, até que em Abril de 2007 assinou com a Nuclear Blast Records, mesma gravadora de bandas como In Flames, Therion, Stratovarius, Children of Bodom, Dimmu Borgir e Nightwish. A banda ainda luta com a Trasmission Records para conseguir os direitos autorais de alguns de seus álbuns e lançar o DVD inédito filmado em Paradiso. O novo álbum é The Divine Conspiracy, lançado em 7 de Setembro na Alemanha e em 10 de Setembro no resto da Europa e produzido por Sascha Paeth. Além da participação do baterista Ariën van Weesenbeek, também teve como convidado o guitarrista Sander Gommans do After Forever, com seus vocais guturais em uma das faixas. O grupo garantiu que seria o álbum com o som mais pesado de toda a história da banda. É também o primeiro álbum totalmente conceitual deles: carrega a teoria que Deus criou as diferentes religiões e as lançou sobre a humanidade para ver se são capazes de encontrar sua verdadeira natureza, realizando com que todas as religiões atualmente são a mesma. E também deu conclusão para o conceito The Embrace That Smothers, que se iniciou no álbum Prison of Desire da banda After Forever e teve continuidade em The Phantom Agony com o Epica. O primeiro compacto do álbum é "Never Enough", que inclusive recebeu duas versões em vídeo, com o renomado diretor Ivan Colic. O álbum foi muito bem recebido tanto pelos críticos quanto pelos fãs tendo como destaque as canções "Death of a Dream", "The Obsessive Devotion", "Menace of Vanity", "Chasing The Dragon", "Safeguard To Paradise", "Sancta Terra" e a faixa título "The Divine Conspiracy". Em 3 de dezembro Ariën van Weesenbeek se torna o baterista interino da banda.
Foi divulgado no sítio oficial da banda, através de uma nota escrita pela própria Simone, que ela estava infectada pela Staphylococcus aureus, uma bactéria resistente à meticilina (também conhecida como MRSA). A cantora passou por diversas cirurgias mas o tratamento é longo e diário, o que obrigou a banda a rever a data de diversas apresentações. Em março de 2008 a banda divulga que para substituir Simone, que ainda está doente, convidaram Amanda Somerville, que havia participado em todos os álbuns do Epica como segunda voz. Em 15 de maio Simone volta a se apresentar ao vivo, já recuperada, apresentação feita para comemorar o quinto aniversário do álbum The Phantom Agony.
Em 14 de junho 2008 foi realizado The Classical Conspiracy, um concerto no Miskolc Ice Hall (Hungria) em que tocaram peças clássicas de Mozart, Dvořák, Verdi, Orff, Prokofiev, Grieg e Vivaldi junto a uma orquestra e a um coral, mas seguindo o estilo da própria banda. Também, algumas de suas próprias canções do grupo reescritas especialmente para o evento.
No fim de 2008 Ad deixa a banda por não estar mais se sentindo bem pelas turnês e pelo pouco tempo que o restava para fazer outras coisas, segundo nota oficial no MySpace do guitarrista. As buscas por um novo integrante continuaram até meados de janeiro de 2009. Reuniu-se ao grupo o guitarrista Issac Delahaye, do God Dethroned.
Em maio de 2009 é lançado o álbum ao vivo do show The Classical Conspiracy, sendo duplo e contendo 28 músicas, alcançando a vigésima terceiro posição na parada oficial holandesa. Foi anunciado que no dia 16 de outubro de 2009 será lançado o novo álbum Design Your Universe,[1] com a temática de que todos estamos ligados a nível subatômico e que podemos influenciar o mundo através dos nossos pensamentos, e continuará nele o conceito A New Age Dawns.
Genre : Gothic Metal
Format : MP3, 320 Kbps
Size : 49 Mb

Tracklist :

01.The Phantom Agony 04:34
02.Veniality 04:35
03.Facade of Reality 08:11
04.Veniality (Orchestral Version) 04:35




Download
Epica - The Classical Conspiracy - Live - 2009 (CD)

Info: mp3, 320 kbps,

Tracklist:
CD I - Classical Set
1.Palladium
2.Dies Irea (Verdi)
3.Ombra Mai Fu (Händel)
4.Adagio (Dvorák)
5.Spider-Man Medley
6.Presto (Vivaldi)
7.Montagues and Capulets (Prokofiev)
8.The Imperial March
9.Stabat Mater Dolorosa (Pergolesi)
10.Unholy Trinity
11.In The Hall Of The Mountain King (Grieg)
12.Pirates of the Caribbean Medley
-----------------------------------------------------------
13.Indigo
14.The Last Crusade
15.Sensorium
16.Quietus
17.Chasing the Dragon
18.Feint

CD II - Epica Set
1.Never Enough
2.Beyond Belief
3.Cry for the Moon
4.Safeguard to Paradise
5.Blank Infinity
6.Living a Lie
7.The Phantom Agony
8.Sancta Terra
9.Illusive Consensus
10.Consign to Oblivion

Total time: 2:23:55

Parte 1
Parte 2
Parte 3
Parte 4

Epica - The Divine Conspiracy - 2007 (CD)
Info: MP3/320Kbps/44KHz
Tracklist:
01. Indigo

~

prologue
02. The Obsessive Devotion
03. Menace of Vanity
04. Chasing The Dragon
05. Never Enough
06. La'petach Chatat Rovetz

~

the Final Embrace
07. Death of a Dream

~

the Embrace that Smothers part VII
08. Living a Lie

~

the Embrace that Smothers part VIII
09. Fools of Damnation

~

the Embrace that Smothers part IX
10. Beyond Belief
11. Safeguard to Paradise
12. Sancta Terra
13. The Divine Conspiracy

Parte 1
Parte 2
Parte 3

Senha : www.mediaportal.ru

Epica - The Road To Paradiso - 2006 (CD)

Info: mp3, 320kbs, 129Mb

Tracklist :

01-Welcom To The Road To Paradiso (Caught In A Web)
02-Making Of Adyta
03-Adyta
04-Making Of Cry For The Moon
05-Cry For The Moon
06-Making Of Quintes
07-Quintes
08-Quintes (Silent Reverie)
09-The Fallacy
10-Interview With Ad On The Live Tracks
11-Solitary Ground
12-Blank Infinity
13-Mother Of Light
14-Linger
15-Crystal Mountain
16-Purushayita

Parte 1
Parte 2
Epica - Live In Chile - 2005 (CD)
Tracklist:
01. Hunab'Ku
02. Mother of Light
03. The Last Crusade
04. Quietus (version grunts)
05. Adyta (The neverending embrace)
06. Sensorium
07. Cry for the Moon
08. Feint
09. Illusive Consensus
10. Facade of Reality
11. Run for a Fall
12. Seif Al Din
13. The Phantom Agony
14. Solitary Ground
15. Blank Infinity
16. Consign to Oblivion

Download

Senha : www.mediaportal.ru
Epica - The Score - An Epic Journey - 2005 (CD)
Tracklist:
01. Vengeance is Mine
02. Unholy Trinity
03. The Valley
04. Caught in a Web
05. Insomnia
06. Under the Aegis
07. Trois Vierges (solo version)
08. Mystica
09. Valley of Sins


11. The Alleged Paradigm
12. Supremacy
13. Beyond the Depth
14. Epitome
15. Inevitable Embrace
16. Angel of Death
17. The Ultimate Return
18. Trois Vierges (reprise)
19. Solitary Ground (single version)
20. Quietus (score version)
Parte 1
Parte 2
Senha : www.mediaportal.ru
Epica - Consign To Oblivion - 2005 (CD)
Genre : Gothic Metal
Format : MP3, Vbr 256 Kbps
Size : 93 Mb
Tracklist :

01-Hunab K'u
02-Dance Of Fate
03-The Last Crusade
04-Solitary Ground
05-Blank Infinity
06-Force Of The Shore
07-Quietus
08-Mother Of Light
09-Trois Vierges
10-Another Me 'In Lack'ech'
11-Consign To Oblivion



Download
Epica - We Will Take You With Us - 2004 (CD)
Genre : Gothic Metal
Format : MP3, 80 Mb
Tracklist :

1. Facade Of Reality
2. Sensorium
3. Illusive Consensus
4. Cry For The Moon
5. The Phantom Agony
6. Seif Al Din
7. Feint (Accoustic)
8. Run For A Fall (Accoustic)
9. Memory (Accoustic)






Download

Epica - The Phantom Agony - 2003 (CD)

Tracklist:

Info: mp3, 320 kbps,

1. Adyta (The Neverending Embrace)
2. Sensorium
3. Cry For The Moon (The Embrace That Smothers - Part IV)
4. Feint
5. Illusive Consensus
6. Facade Of Reality (The Embrace That Smothers - Part V)
7. Run For A Fall
8. Seif Al Din (The Embrace That Smothers - Part VI)
9. The Phantom Agony



Download

Senha : www.mediaportal.ru